Snix - Black
Add +1 size to your preferred size, Example if you are size 37,  add + 1, then your size is 38 (this is for socks purposes)


The sizes of our SNIX are Asian sizes.

Sizes conversion to Centimeters (cm)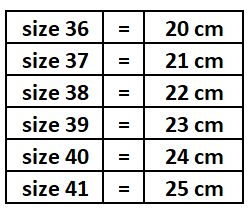 The Name "SNIX" is short for sneakers.

This is a ladies' casual active fashion model. It is "fashion" because it has no technical/sports-specific features, but it has the look of sports shoes. Its outsole has an "elevated"/higher profile which emphasizes its fashion feel. 


The Sole: 

made of Rubberized EVA midsole to make it lighter in spite of the thicker profile, with a PVC outsole for durability and added traction.


The Uppers: 

are made of breathable mesh for a cool and more comfortable fit, with PU, added to reinforce the toecap and heel counter, areas prone to scuffing.